Correlation of spindle speed on the outer thread precision of magnesium AZ31
Keywords:
ulir, magnesium, kesalahan, permukaan, threading
Abstract
Pengembangan magnesiun telah dilakukan di berbagai bidang, salah satunya adalah bidang kedokteran sebagai material tanam (implant) di dalam tubuh. Material ini digunakan karena sifatnya yang sangat mirip dengan tulang dan bersifat mampu degradasi di dalam tubuh serta tidak bersifat racun. Kajian ini bertujuan untuk mendapat korelasi kecepatan putaran spindel terhadap tingkat kesalahan puncak ulir, sudut ulir dan jarak puncak ulir. Pengujian dilakukan menggunakan mesin CNC bubut dan material yang digunakan adalah magnesium AZ31. Parameter pemesinan dipilih adalah kecepatan putaran spindel 212, 318 dan 424 rpm, sedangkan kedalaman potong adalah sebesar 0,324761, 0,433015 dan 0,649523 mm. Tingkat kesalahan ulir diukur menggunakan profil proyektor dengan cara melewatkan cahaya pada benda kerja dan kemudian membaca ukuran. Kajian ini menunjukan bahwa nilai kesalahan tinggi puncak ulir berkurang dengan peningkatan kecepatan putaran spindel benda kerja, di mana nilai kesalahan terkecil adalah sebesar 0,018188 mm, yang diperoleh pada parameter kecepatan spindel 424 rpm dan kedalaman potong 0,433015 mm. Sedangkan peningkatan kecepatan putaran spindel secara signifikan memperbesar kesalahan jarak puncak ulir, di mana nilai kesalahan terbesar mencapai 12,9% yang terjadi pada kecepatan putaran spindel 318 rpm. Demikian juga profil permukaan ulir terbaik yaitu dengan sedikit permukaan berlubang, chattering mark dan feed mark didapatkan pada parameter kecepatan spindel 424 rpm dan kedalaman potong 0,324761 mm, semakin tinggi nilai kecepatan spindel maka semakin kasar bentuk profil permukaan ulir.
Downloads
Download data is not yet available.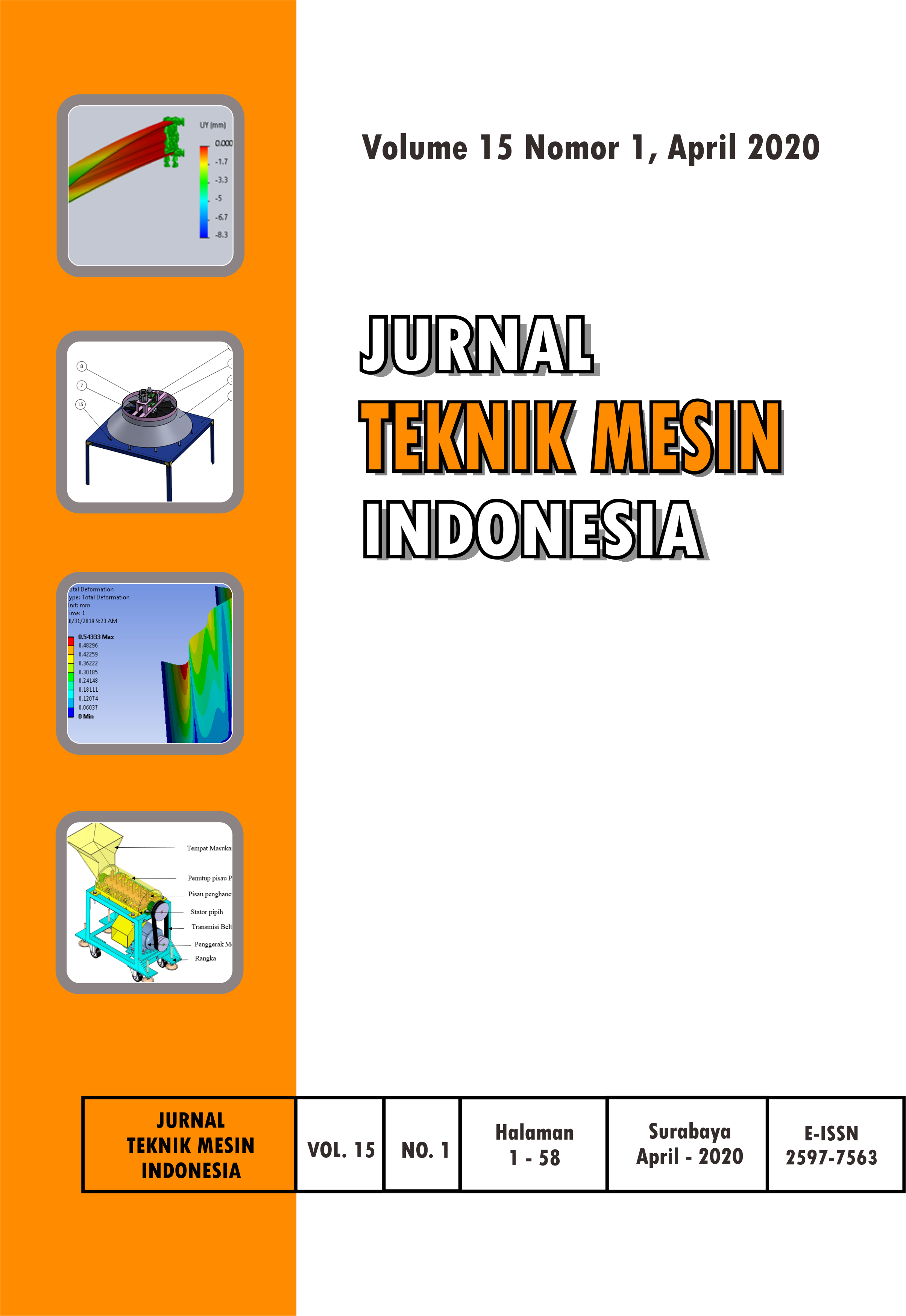 Downloads
Section
Mechanical Engineering